OCIE is a leading company in the toys and baby products industry located in GuangZhou since 1994. we have long-term cooperation relationships with more than 1000 factories, in the toys and baby products industry.
For the past 26 years, OCIE has consistently adhered to the principle of seeking development through service, and has formed a benign enterprise operation system. OCiE provides a wide range of products, mainly includes electric baby carriages, strollers, walkers, bicycles, tricycles, bicycles and balance bikes, plastic toys and other baby products. All the products have exported to more than 100 countries and regions overseas, which are loved by all the customers.
OCIE has set up two show rooms in GuangZhou and ShanTou. The show room in Guangzhou is located in the Zhongzhou Exchange Center on the east side of Hall C of Guangzhou Pazhou Convention and Exhibition Center, adjacent to Exit D of Pazhou Metro Station. It takes 10 minutes to walk from the Guangzhou Pazhou Convention and Exhibition Center to the show room in the Zhongzhou Exchange Center , and 2 minutes by driving.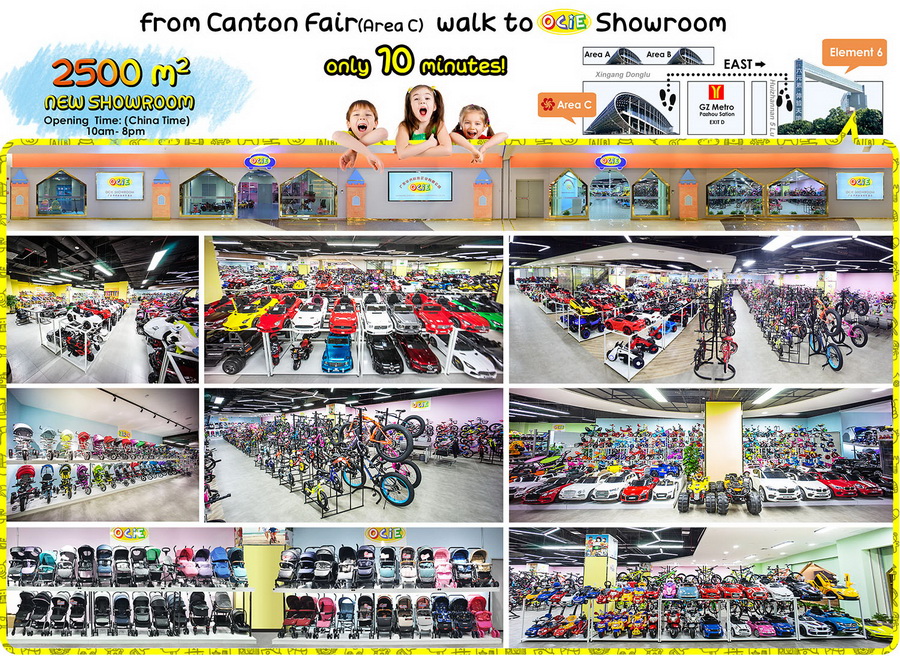 The Guangzhou exhibition hall covers an area of more than 2500 square meters, including a stroller exhibition area of more than 2200 square meters. The main exhibits include bicycles, electric vehicles and various types of baby carriages, with more than 3,000 samples on display.
It consists of the latest collection of the highest quality products across the country, providing direct services and professional guidance. There are more than 300 square meters of experience stores on the e-commerce platform, which mainly display all kinds of children's products.
OCIE Chenghai Branch is located in Chenghai District, Shantou City, known as China's "city of toys and gifts". It consists three floors of office and show room with an area of up to 5,000 square meters. The show room consists more than 500,000 kinds of toys of various categories with price range from low to high, which will be updated everyday. There are also a high-quality manufacturers' product section, with better pricing, delivery guarantee and after-sales service. It helps the customers to be more dominate within the industry, which has been given high prices from the past.
OCIE has many sale staffs which are very familiar with the global market for toys and children's products. It can promptly and accurately recommend suitable products to different customers. OCIE has a perfect quality assurance system, and has passed the high standard quality inspection of many customers. OCIE is united as one and forging ahead with determination, based on the values of "treating people with courtesy and unity of conduct".